Teams presentations:
---
12
1960 Porsche Roadster
Armin & Diana Thorn, Hamburg, Germany
"The car was renewed 3 years ago. This is our second tour, laste year we visited Eikl-Klassik on Nürburgring"

---
13
1960 Jaguar XK150S Drophead
Jaap & Carla Elzas, Holland

---
14
1968 Triumph TR-5
David & Pam Inns, Somerset, UK
"Rallied since 1991 in UK, France, Spain, Ireland. Visited Cape Horn, Cape of Good Hope & now the North Cape!"

---
15
1965 Austin-Healey MK-3
Dieter Hartlage & Udo Aulbert, Ornabruck, Germany
"We like ralleys! We the restored the car for ourself and needed 2 years."

---
16
1928 Ettore Bugatti Typ 40 1.5l
Walter Rothlauf & Fritz Walter, München/Stuttgart, Germany
"Delivered 1928 from Omnia Garage. Munich. Post-war history in different countries, Holland, England, Germany. Already named in the first Conway Bugatti Register. Restored between 1991-1996."

---
17
1959 Triumph TR-3A
Charles & Margaret Sayer, Sussex, UK
"We have previously entered the following rallies: Claret & Classic, Basque, Bilbao, Corse Retro 40, Tour of Ireland. And the following runs: Norwich Union, Euro Classic, Haynes Classic, Benson & Hedges, London to Brighton. The car was fully restored in 1989, with the suspension modified in 1994 and engine in 1995. It has participated in hillclimbs and sprints in 1994/95/96."

---
19
1952 Jaguar XK-120 Roadster
Peter Kraus & Heimo Reschreiter, Lugano - Morcote, Switzerland
"It was our first bigger rallye and we enjoyed it very much. I own the car since 20 years, drive only in "hot" countries like Italy, but "Black Jag" loved the cold Norwegian wind I found out."

---
20
1964 Jaguar E-type Roadster 3.8
Karl Ruhl & Barbara Ruce, München, Germany

---
21
1935 Alvis Silver Eagle 2.5l
Franz & Edelgard Rohrer, München, Germany
"The team is married since 30 years and looks foreward to a hopefully very exciting and interesting rallye. This care come 8 years ago from England and was since then driven at several mountain rallyes through Switzerland, France, Italy, Austria and Bavaria. Last years mountain rallye with 28 mountain passes!"

---
22
1963 Mercedes 300 SL Roadster
Berth Schneider, Germany

---
23
1966 MG C
John & Pamela Rondeau, UK

---
24
1966 Mercedes 280 SL
Joachim Riecken & Karin Dittrich, Henstedt-Ulzburg, Germany
"We did not had a speedmeter, so we couldn't not make points by the regularity. The car is 1. hand, 114.000 original kilometres and is not restored."

---
25
1954 Jaguar XK-120 3.8l
Franz & Monica Hoeflinger, München, Germany
"We like to have a very good week! 3. Europa Championship 1992. 2 Coppa d. Italia"

---
26
1960 Austin-Healey 3000 Mk1
Bruce Richardson & Kate Shaw, Scarborough, England
"Motor mechanic in Rover/Jaguar garage. Collects cars & motorcycles. Travel all Europe touring & watching motorcycle sport. Owned car 26 years. Rebuilt myself 1988-92."

---
28
1965 Chevrolet Corvette Stingray 427
Dieter & Holger Odeman, Hamburg, Germany
"Driver demonstrated 3-wheel driving, but also racing with an original and non-restored car."

---
29
1965 Gordon Keeble GK1
Alistar Caldwell & Anthony Cumine, Maidenhead, England
"Alastair Caldwell was team manager of the McLaren F1 team in the 70's, winning the world championship in 1974 with Emerson Fittipaldi and again in 1976 with James Hunt. He now has a self storage business in London called Space Station. Anthony Cumine runs an indoor go-kart centre in Mol in Belgium and a pub called the Harp&Crown in England. He and his wife have a horse called Cupido which will represent Britain in the Olympic games in Atlanta this year. The car is a Gordon Keeble GK1 with a Chevrolet smallblock 5.3 V8. There were only 99 fibreglass production models built, and one steel prototype by Bertone. So 100 in total, of which 4 have been destroyed and 2 are missing. The remaining 94 are know to the Gordon Keeble owners club. We bought the car as a wreck in 1994 and have taken it completely apart and rebuilt it. This is its first rally. An excerpt from the owners manual: "DON'T start up a cold engine and then leave it idling while you rush indoors to pay a belated farewell to your wife. In the interests of minimum engine wear, skip the farewell and drive away. When facing the music on your return in the evening, make a mental note henceforth to adopt a definite sequence of events prior to your morning departure. You will achieve substantially diminished wear from your engine, and deserve greater affection from your wife."

---
30
1960 Austin-Healey 3000 BT7
John Noble, UK

---
31
1956 Jaguar XK-140 Roadster 3.4 competition
Fritz Textor & Lidek Berdychowski, Holland & Norway
"We are two happy men in the middle age, like cars and .... Both works for Mølnlycke. Original car imported from USA to Holland, american history unknown. Last 15 years restores and owned by Mr. Textor."

---
32
1957 Mercedes 300 SL Roadster
Erich & Ursula Hillgruber, Hamburg, Germany
"We are enthusiasts about oldtimer automobiles, especially Porsches and Mercedes-Benz. Our favorite cars are the 300 SL roadsters and coupes, all in original and perfect condition. My profesion is that of an architect.

---
33
1965 Austin-Healey 3000 Mk3
Per Hannestad, Norway

---
34
1955 Jaguar XK-140 Roadster
Robert Hansen, Norway

---
35
1962 Jaguar E-type Roadster
Christian Paulsen, Norway

---
36
1970 Porsche 911T
Kjell & Turid Nilsen, Oslo, Norway
"We have been married for 33 years, and Kjell has always been interested in cars, and have taken part in several rallies in Norway. Tulip rally for 2 years and in february '96 the Monte Carlo Challenge in an open Morgan. An american soldier bought the car in Germany 1970 - was in California for 10 years. This soldier married a Swedish girl, took the car to Sweden. The car stayed in a barn in Sweden for 8 years, and then we bought it in November 1995 from Lasse Jønsson in Karlstad, Sweden. Paid taxes and import duties and registered it in Oslo. Our first rally!""

---
41
1970 Jaguar XJ6 4.2
*Nick Johannessen & Ståle Berger Nyvold, Norway

---
42
1953 Jaguar XK-120 Roadster
*Kai Fellkjær & Henning Baanrud, Norway

---
43
Mercedes 230E
*Morten & Mona Ydalus, Norway

---
44
1991 Jaguar XJ40
*Ragnhild Bøhn & Berit Bang, Norway

---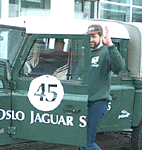 45
Landrover
*Morgan Trobe, Norway

---
(* indicates crew)
---
---